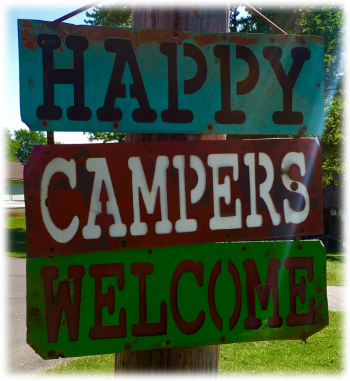 Spring 2021
Welcome Guests!
This year's season starts April 30th and ends October 3rd.
2021 marks our campground's Emerald year! Our family has been welcoming guests to camp with us in our own backyard - not only for three generations - but now for 55 years as well! We are happy to have you and your family here to help us celebrate! As always, our mission to provide our guests with a safe, fun, and family-oriented atmosphere remains our top priority. We also work hard to offer our guests a beautifully maintained slice of the countryside. This year as we settle into our second season of safely operating through COVID-19, you will find some changes that help us to not only run our business more efficiently, but also, through compliance, to ensure your health and safety.
Get a printable copy of our newsletter updated for the 2021 season!
Important Reminders for 2021
Masks must be worn in all buildings and at all pickup windows at all times - NO EXCEPTIONS. They must also be worn outdoors when social distancing is not possible.
Starting this season, returning seasonal guests will be required to complete their 2022 camping contract by September 12. A non-refundable $100 deposit toward the 2022 season is due at time of contract signing.
If you would like a crate of wood delivered to your site, please email the office by Thursday at 3pm for delivery in time for the weekend. For propane fills when the office is closed, please leave your tank by the filling station by 3pm and pay via our secure drop box. For after-hours ice purchases, please help yourself and pay via drop box.
Children 18 and under must be back to their own sites by 10 PM - unless accompanied by parents - NO exceptions!
Solicitation of any kind is strictly prohibited on the premises unless approved by management